PADDLESHIFT   
This small versatile paddle switch can be installed by double-sided tape on the original steering wheel. Many DIY customers use the original paddle shift from the manufacturer, but the installation is very hard caused by column cover work. This Paddle Shift can be fitted by sticking it on the spoke part of the steering wheel via double-sided tape, and the fit position can be adjusted. Also, the paddle stroke can be adjusted by screws. It is not a switch only for shifting purpose, so customer can decide how to use it.

Warning1: Wiring work is necessary for installation!
Warning2: Spiral cable work is necessary for installation, and professional technology is also necessary.

The spiral cable connector wiring which comes out after slipping the airbag of the original steering wheel will be used as the Paddle Shift wiring. If there is no connector left caused by using on air conditioner, audio or phone, it is possible to work on vehicle side and electricity signals by using airbag wiring, but the airbag cannot be used any more. If you cannot complete the conduction check, please go the professional store.
* If the airbag wiring is used for installing this item, please purchase an option U-Turn Harness to turn off the airbag indicator.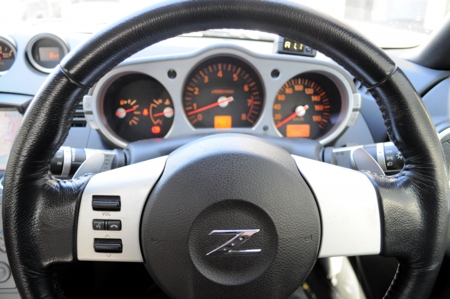 ,http://gdata.youtube.com/feeds/api/videos/Q9OG-Q2FGGo,simple01,{"playerWidth":"480","useCustom":false,"autoPlay":false,"autoLoop":false,"autoNext":false,"quality":"medium","qualityName":"中"}